Pictures and text here are provided courtesy of Doug Lyle.
See more of Doug's cars at http://www.dougscars.com
1960 Hillman Husky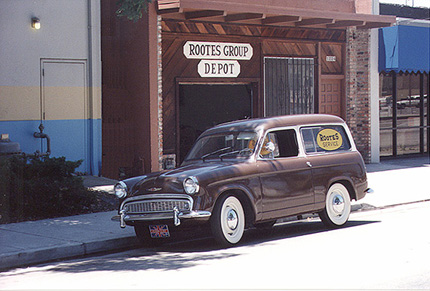 My first upgrade was to put 3.89 gears in the back. I then added an overdrive. This put a bit of a strain on the original 1390 CC motor so I swapped in a cast iron head 1725. The next upgrade was to add a Weber 34/36 carburetor. After about 10,000 miles I blew the head gasket so I decided to put an aluminum cylinder head on it. I found a NOS Holbay head and added stainless steel exhaust. I was never really satisfied with this set-up because the Holbay seemed to want to make its power in the higher RPMS. After about 100 miles I yanked the motor and started collecting parts to swap in a V8. I bought a Ford crate motor, a 340 horsepower 302. It will be backed by a Ford C4. So far I have already installed the following parts from a Sunbeam Tiger: leaf springs, 2.88 rear end, and a front cross member with disc brakes.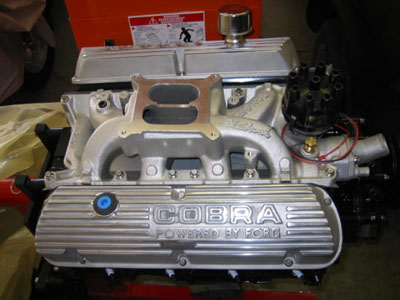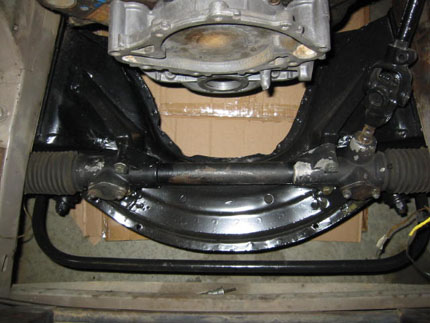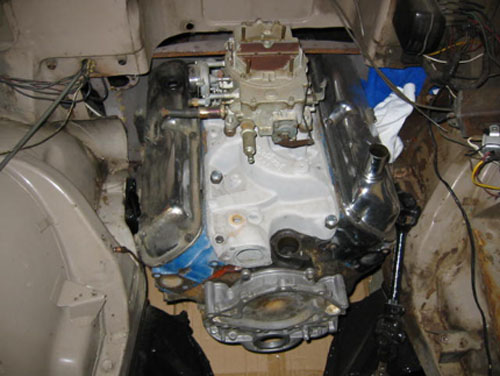 Currently I have a 260 block and heads and a C4 to see what kind of cutting will need to be done. The firewall has been cut out and I have a Tiger firewall and tranny tunnel to fit the larger engine. About the only real modifications are the firewall, tunnel, and steering. The rear cross member for the C4 was a generic tube with a 2" drop. I have a Tiger steering column that will need to be shortened. I will use the original steering wheel if possible.
Believe it or not I'm actually a purist at heart so the car will appear as close to stock as possible. The interior has been redone in its original red and I even found the correct pinpoint material to make a new headliner. It looks great with the red piping. I managed to find lots of NOS parts to finish off the interior including window cranks, escutcheons, rear view mirror, ignition and lighting switch, heater control levers, windshield, and vent handles. In the future I'll repaint the car in the original antelope color.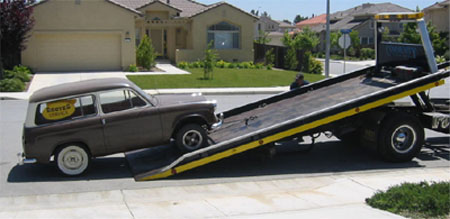 Above is a picture of the Hillman on the way to the body shop for firewall/tranny tunnel modification.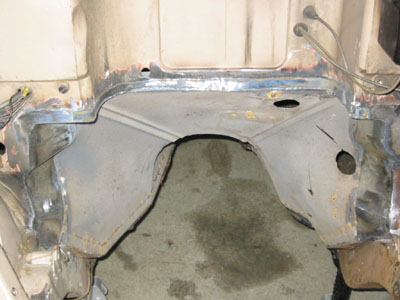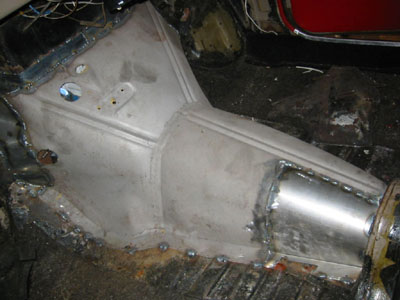 Just got back from the body shop. This is what the modified firewall looks like. Now that the dummy engine is out I need to figure out where the steering goes. As soon as I do that it goes back to the body shop so they can finish welding the whole thing together. They will also add a rear upper shock mount so I can use normal shocks instead of the old lever types.
Here is how the Tiger transmission tunnel fits. The only modification was to eliminate the shifter hole and to add a few inches at the front. There's still plenty of leg room and the seats retain their original mounting positions.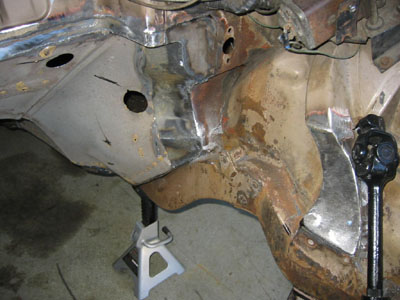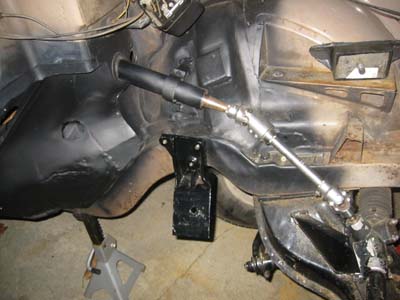 This is how we had to notch the fender support to make room for the steering u-joints. You can also see the material added to bridge the gap between the Tiger firewall and the Hillman Firewall. Looks like we'll need to add a little more sheetmetal to house the steering column, otherwise it would have to be located too far to the left. You can see the final position of the steering column. I opted to use modern Borgeson U-joints as they are able to handle greater angles than a stock Tiger unit. In addition, the top U-joint has a vibration dampener. The whole U-joint assembly was shorter than the Tiger one so I was able to use a stock length Tiger steering column. You can also see how the motor hanger bolts right up where the Husky steering used to go.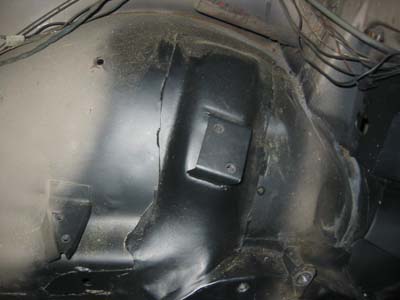 I decided to get rid of the square Husky inner fender supports and replace them with lower profile Tiger braces. This was necessary to make room for the Tiger steering rack. Shortly after this picture was taken, we removed the squared piece on the brace that was used to connect the strut to the firewall. We didn't think this was necessary as the car gained strength from the roof.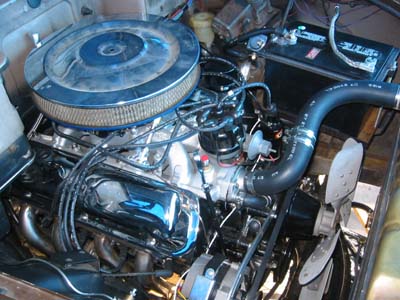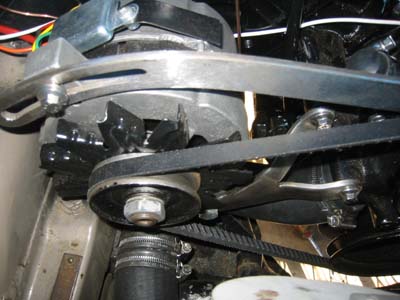 Here is a shot of the engine. I still need to fabricate a spacer to bring the fan closer to the radiator. We had to fabricate both upper and lower alternator brackets. I don't really like the positioning as it's a little too close to the frame and there isn't enough room to pull it away. It's also too close to the lower radiator hose. I'll probably mount the alternator much higher which will allow for side to side adjustment.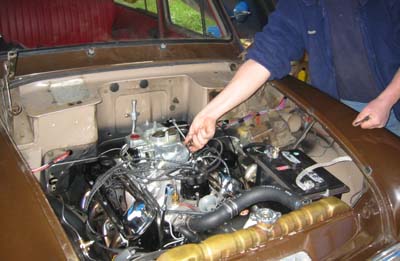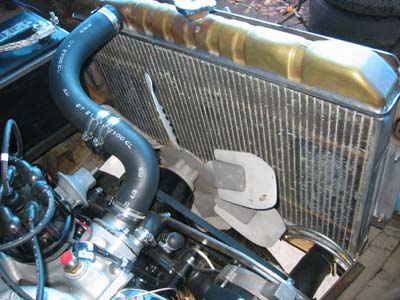 Here Paul Reisentz of Reisentz Restorations and I are firing up the motor for the first time. I had Peter Economoff of Peterbuilt Radiators in Santa Barbara, CA make me a 3 row radiator. I am going to see if I can get by without an electric fan. So far, it hasn't gotten above 160 degrees. Radiator hoses proved to be a challenge so I just spliced a couple together. I could have done Cool Flex but I did not like the look...Plus, I put a Gano Filter in so I needed a splice anyway.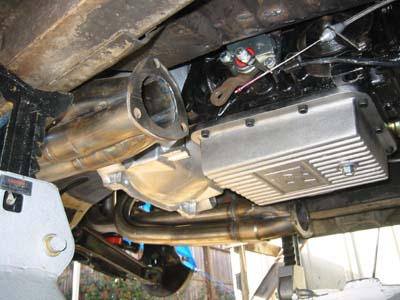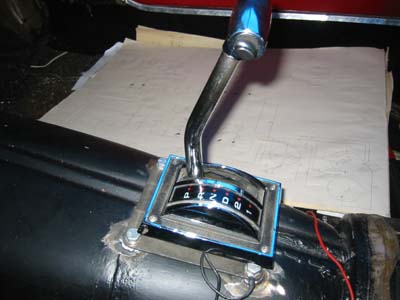 Here you can see the CATT headers and Performance Automatic C4 transmission. A stock Ford Mustang shifter was used and has been wired to light up.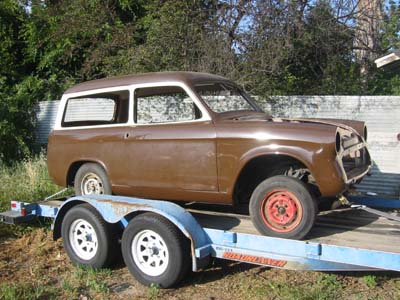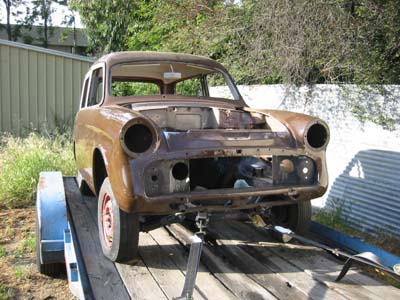 Here it is all stripped down getting ready to go in for paint. Just for fun I decided to shine up the front fender and it actually looked pretty good. The Tiger crossmember was removed for painting and an Alpine unit was put in its place just to make it roll.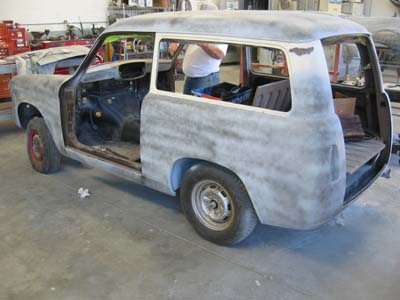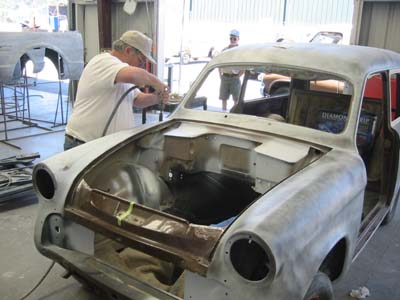 Tim at Frank's Frame & Body Shop in Valley Springs, CA is drilling a hole for the antenna. I found a cool NOS Motorola retractable antenna on eBay. It retracts and locks in place. To open it you need a little key which pops it up a couple inches. I had them fill severals holes in the engine compartment including the fresh air vents in the firewall and radiator support. They also filled in the 2 heater holes. We mounted a Vintage Air heater/defroster on the passenger side under the dash.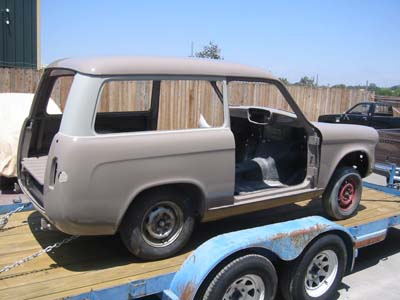 I've made quite a bit of progress on the Hillman project. Most of the hard work is out of the way. Once we got it running, we could drive it around and work out the kinks. We took it to A1 Muffler in Morgan Hill, CA to get the exhaust put on. I used 2 1/4 stainless steel exhaust pipe and Spintech mufflers. A trip to the alignment shop revealed a bent spindle so I replaced that and will have to take it back for alignment later. After driving it for 2 weeks we tore it down for a trip to the body shop. I never got a chance to really step on it as it really needs a tune up and would back fire if I gave it too much gas. The 650 Speed Demon needs some adjusting. I sent out all the trim for plating and polishing. I got it back and it looks really good. I also sent out the headers to Jet Hot for coating. Original Husky wheels are getting widened to 6".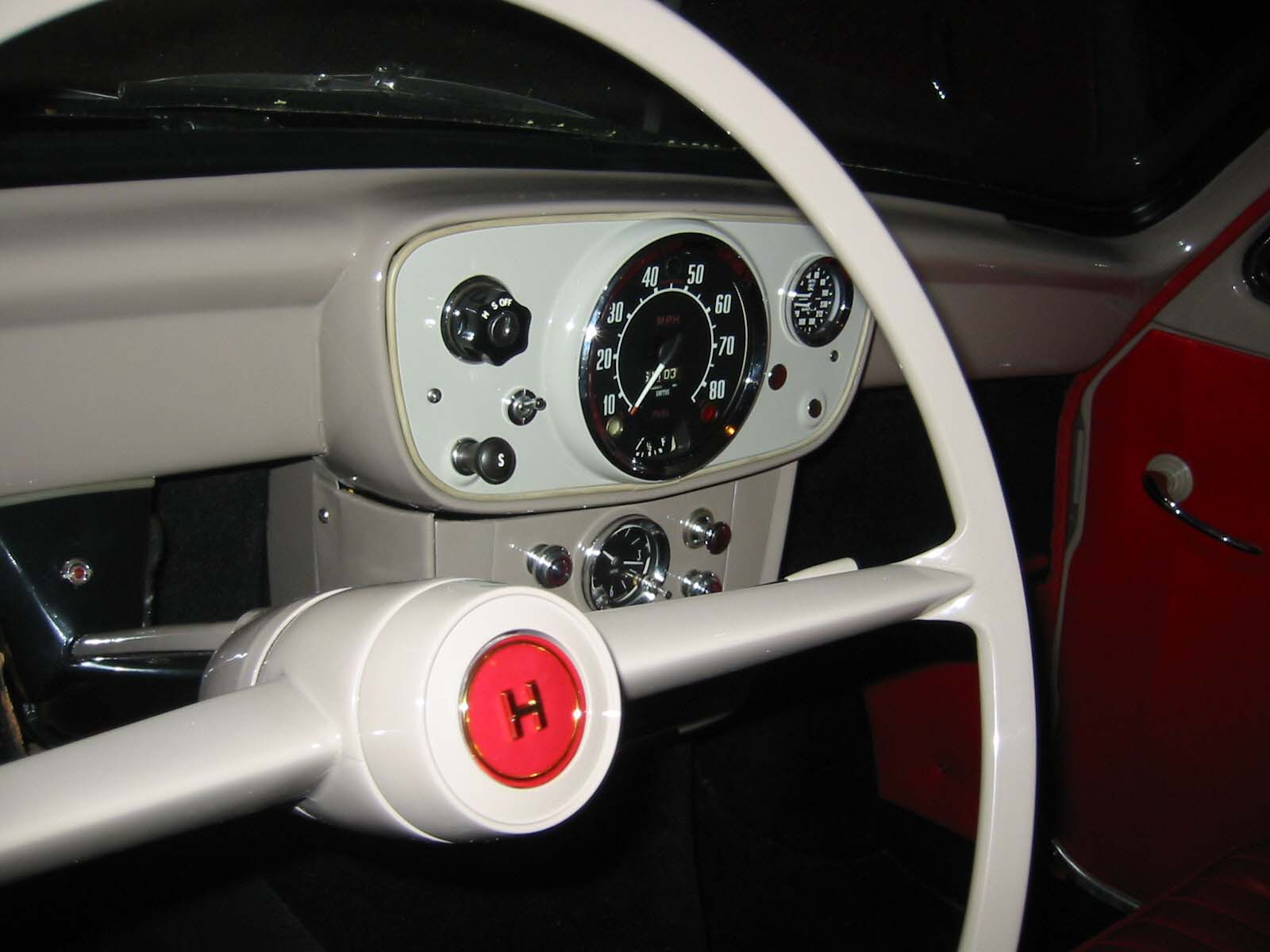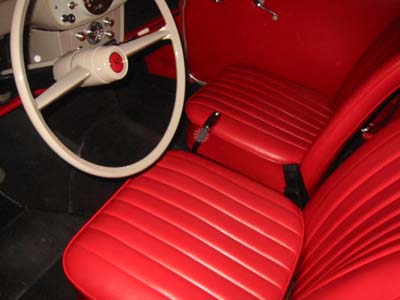 I modified the Tiger steering column to accept the original Husky steering wheel.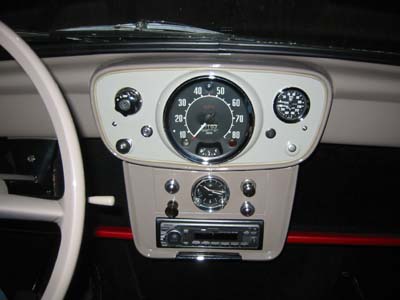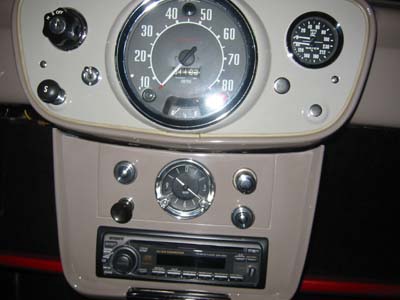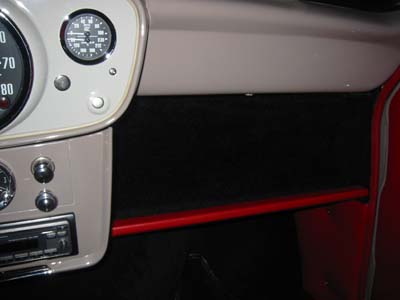 I found the radio console in a junk yard in Fresno. It houses my radio, original Hillman clock, cigarette lighter, and knobs for the Vintage Air heater and defroster. The black knob will be replaced with a matching silver knob. I was testing different types of knobs. I installed a combination oil pressure, water temperature gauge in place of the original Husky water gauge. If you look carefully at the different pictures you can see the minute hand on the clock has moved. It works!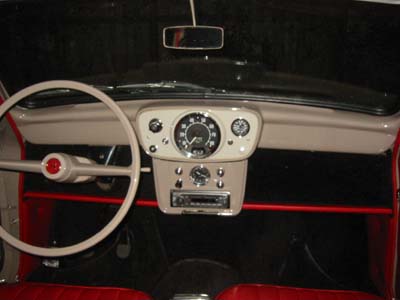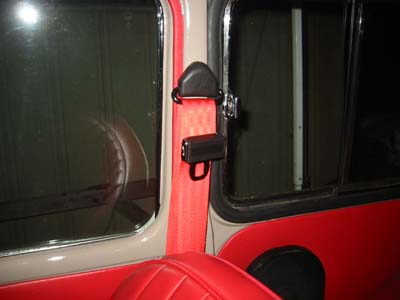 Yes, it is possible to put 3 point seatbelts in a Hillman!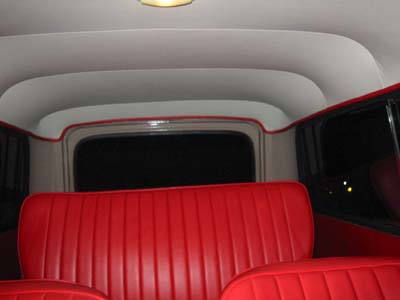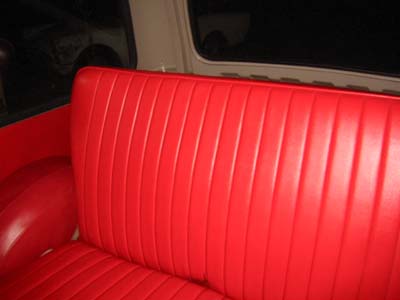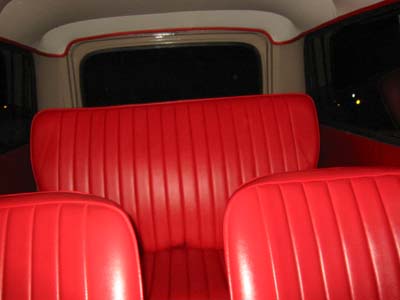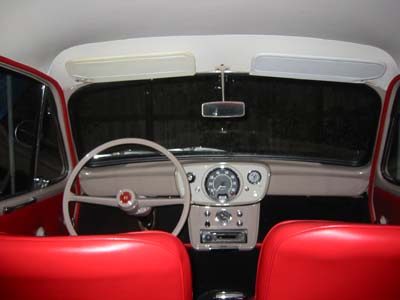 Seats and headliner were done by Martha Christensen of Pro-Prep Interiors. We were even able to find the original pinpoint material for the headliner. It's the same material that is used on Sunbeam Tiger and Alpine sun visors.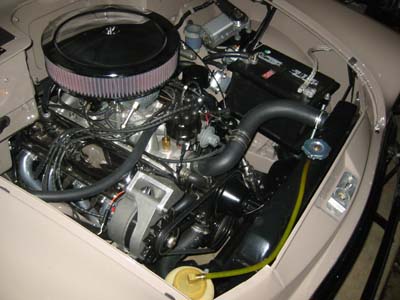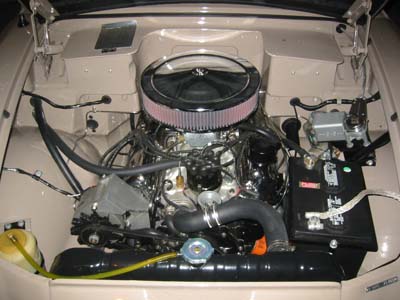 This is what 340 horsepower looks like in a Hillman Husky. The picture actually makes it look more crowded than it is. It had more room than a Sunbeam Tiger especially in the front. I had to add a spacer to bring the fan closer to the radiator. Alternator bracket was made by Paul Reisentz.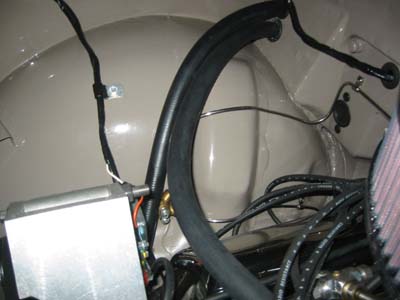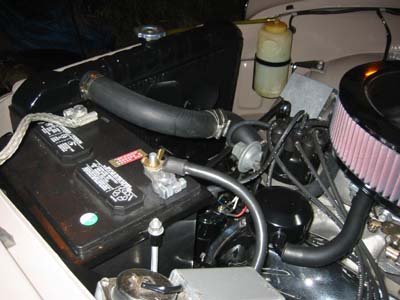 Up above you can see the Tiger fender brace that we installed. It gives more room than the squared Hillman fender support. This was especially important to provide clearance for the Tiger steering column. You can see in the other photo we used a Rootes washer bottle as a coolant recovery tank. You can also get a glimpse of the large radiator built by Peter Economoff of Peterbuilt Radiators in Santa Barbara. Even in traffic and summer weather the car never went above 185 degrees. Battery and wiper motor remain in their stock location.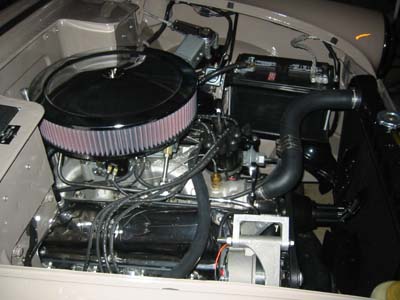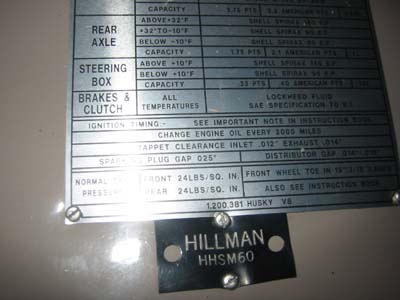 I had a specification plate made to say Husky V8. I found out later it should have said Husky Saloon.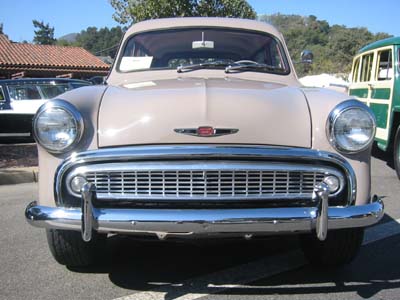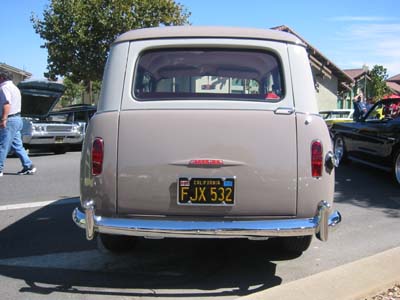 My aluminum grill doesn't look very good. I was going to get it chromed but it was too pitted. Superior Chrome handled all my replating needs.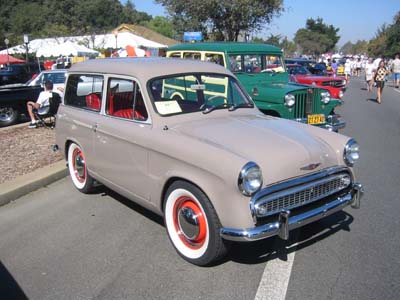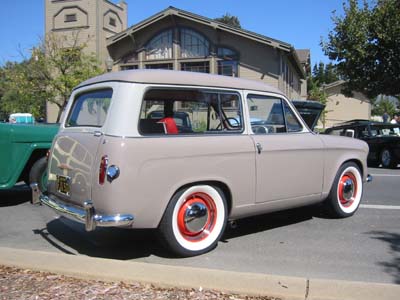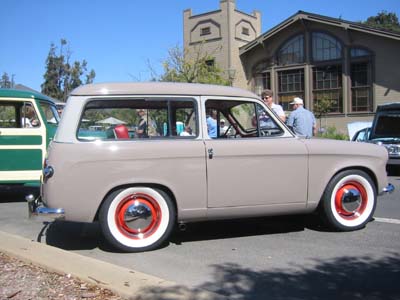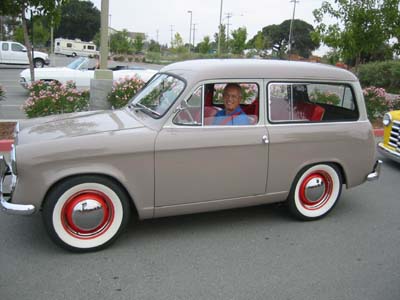 The BF Goodrich 215/70/15 radials fit nicely. I had the original wheels widened to 5 inches. Wheel studs were replaced with ARP racing studs. Stainless steel exhaust exits just in front of the rear wheels. This makes for a loud car. I eventually plan on rerouting the exhaust out the back of the car...just not sure how to do it yet. And here is my dad driving the Husky to the 2004 Taste of Morgan Hill Car Show.

If you have any questions feel free to contact me. doug@dougscars.com