HILLMAN PHOTO GALLERY (Big page, so please be patient..)
| | |
| --- | --- |
| < The Series I Minx (1956 - 1957) "Special" Saloon in the popular two-tone paint scheme. | (Below) The Series II (1957 - 1958) Minx Convertible ("drophead" coupe) with slightly modified grille. |
| | |
| --- | --- |
| < The 4 Cylinder Over Head Valve Motor (91.2 Cubic Inch version used in the Series IIIA). This motor evolved from 1390cc in the Series I to 1725cc in the Series VI. The same basic block was also used in the Rapier, with several modifications. The motor shown on the homepage of this site is a Series V powerplant. | |
< The Earl's Court Auto Show, 1960 model year. Immediately behind where the Chevrolet sign is hanging you can see the Sunbeam exhibit, but the crowds were all looking at the Chrysler-Plymouth display: a sign of what was to come, perhaps? Interestingly, the Chevrolet Exhibit was a ghost town in comparison. The Hillman display was quite filled with personnel, but no one to talk to but each other!

>The "Jubilee" Hillman Minx Deluxe Saloon (1957-58) to celebrate 25 years of Hillman Motorcars. Note the lack of the chrome trim along the beltline, and the wrap around chrome strip that begins at the bottom of the windscreen and ends at the tail light bezels which aids in the separation for the unique two tone paint scheme.

< The Series III Minx "Special" Saloon (1958-1959). The photo is of my car, taken in 1967 in West Virginia. It was painted a light grey color that contained a small amount of yellow in the mix to give it a unique tint. The interior was red leatherette, with front and rear bench seats and black rubber floor covering, the transmission a 4 speed floor mounted synchromesh (non-syncro first) with hydraulic clutch. This is the first and only year for the 1494 CC motor.

>The Series IIIA Hillman Minx "Special" Saloon (1959 - 1960). I could imagine the caption for this catalogue shot to read:

"I have no idea why this bloody car's so big, why the tires alone must be 24 inches tall, and the overall dimensions approach that of a Buick!"

The later Series IIIB and IIIC are very similar in appearance, with other refinements in the mechanicals.

< The Series V Hillman Minx 1600 Sedan (1963 - 1964). The Chrysler Corporation takeover forced elimination of the stationwagon (Estate) and convertible models leaving only the sedan. The 13" tires were new to this model year, and I suspect part of the reason for the change was to make the overall car appear bigger. Note how the "family" is at least ten feet in back of the car...

> The last "Audax" bodied car was the Sunbeam Minx 1600 Sedan (1965 - 1966). By this time, even the Hillman nameplate was gone - signaling the end was near. The final fate of the Hillman line was decided by Chrysler, who ended up selling all of Rootes for $1.00 U.S. to another car company due to increasing losses in revenue.

< The Hillman Super Minx Convertible, 1961, also came in a four door and Estate (Station Wagon) form. The powerplant was the same 1575 CC motor later used in the Sunbeam Minx. Where did they get all those miniature people to pose as models, anyway?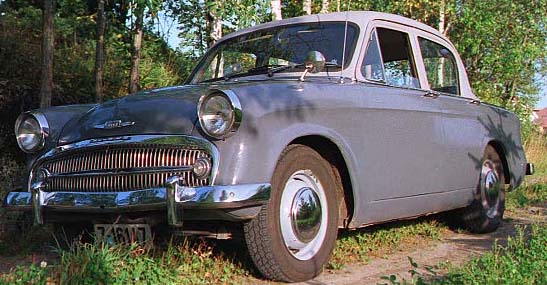 A 1957 Hillman Minx Special Saloon owned by Terje Ellefsrød, in Sandefjord Norway
---