UPDATE: This car was sold in the Spring of 2007 to a new owner located in New Jersey. The information provided on this page is purely informational.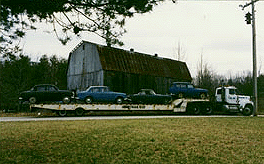 The Story as it began:
Finding another Hillman was filled with a feeling of "fate". After years of searching, I gave up the idea of finding a Hillman altogether. So I restored a 1974 MGB, bought a mint 1974 Dodge Dart Swinger, then restored a 1968 Chevy Nova, and sold em all. My first Internet search in 1989 was for "Hillman" - and only one small U.K site existed in skeleton form. Years later, another search for "Hillman" yielded more sites, with pictures of cars - and some for sale! So the search was renewed. A subscription to Hemmings Motor News ensued. In the very first issue there was an ad for a 1959 Hillman Minx Series III in nearby New York. The next weekend I was looking at the car. A week later, I was riding in a flatbed truck hauling the car, smiling all the way home ;- ).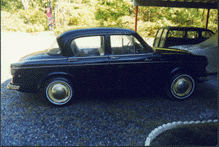 This car differs from my first in only two significant ways: It's black, and has the "special accessory" ash tray option. Otherwise, it's identical. It was found in a barn with 21 other LBG's (Little British Cars), having been hoarded by an eccentric British car enthusiast. On the truck shown above is (from left to right) my "new" car, a blue 1967 Sunbeam Minx (35,000 miles since new), a Sunbeam Alpine (Near Mint), and an Austin These cars were found in 1992 and until my visit to New York in 1998, the Hillman was stored in a carport and went virtually untouched.This car will be a hobby - not a daily driver like the first. It will be fun putting it back into operable condition. The restoration will be a pleasure now that the garage is built.. My first car even had the clutch replacement done outdoors.

> Here, the car looks shiny, only because it's still wet from washing. The glass is "hazy" due to a fine coating of a "tree sap" like substance covering the entire car. Several applications of Windex extra strength and a nylon mesh scrubbing pad was needed to clean the windows. Advertised as "rust free" - impossible for a 40 year old Hillman exposed to the elements - the only rust penetration on the car is the typical lower front of the sills where the damage usually starts. My first Hillman had that, and more - in 1967! So this car puzzles me. It's a mystery, to be sure. The speedometer shows 6192 miles, and the last title reflects that figure - in 1992 - as "in excess of the mechanical abilities of the speedometer".
Things Needed: (Updated 6/99)
New tires (Will wait for last)
Complete interior upholstery (Rotted)
All window gaskets installed (Already purchased materials)
Rebuild of all Brake hydraulics (In progress)
Clutch disk, pressure plate and throwout bearing. (Maybe - is better now)
Fuel pump and all hoses should be replaced (Parts now in stock)
Interesting Tidbit - spare (like new) trunk key was permanently mounted under one of the screws to the firewall identification plate! Several other Hillman owners have told me they found the same thing, so it appears this was common Factory practice. By the way, this car is 100% original - with the same motor it was built with.
The Story Continues on the Progress Page........