I actually found this car on Ebay, and the owner advertised it honestly. Now it is mine, thanks to the "Buy it Now" option.

The car came with an interesting past, as the first owner is rumoured to have been a mobster, and the car was one of his "toys".

The alledged second owner bought the car in the early Seventies, and drove it until a bad accident crushed the front passenger side fender and cowl area, and rear drivers side tail light. Repairs were executed by the owner, whose Father used to own a body shop. While not perfect, the repairs are professional, and complete. In the process of rebuilding the car, a rotted box section and one sill (rocker panel) was also reconstructed and/or replaced.

Papers that came with the car show the owner's devotion to finding the right parts, including a new top, carpets, and trims.

The only drawback to the car is the incorrect motor which was donated by a 1962 Husky. While identical in appearance to the 1494 cc motor that came with the car, it is a 1390 cc displacement unit, however it has been bored out - so who knows what it is now? It's very strong and powers the car easily.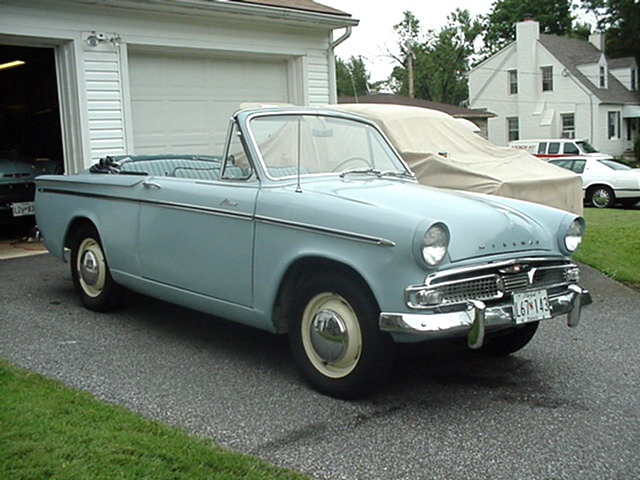 The wheels shown are a replacement set painted in the standard Rootes Group cream color. The car came with dark blue rims that need complete restoration. The grille is a replacement for one used after the restore, which had rust damage. A new front bumper has been secured and will be installed soon. The only other additions are a front bumper guard (one was missing) and a new gas cap (old one dented).

The convertible is the most rare model Hillman, and was not even prevalent in the USA when new.

The convertible contains many extras not usually found in Hillmans - like the Rapier-style gas filler pipe surround, hood insulation, and standard two-toned paint scheme. Structurally, the convertible is a veritible tank - with an extra "X" frame added to beneath the passenger compartment, making the unibody car into a full-fledged car with frame.

The Hillman convertible shares the two-door configuration, and much of the related hardware, with it's "sporty" cousin, the Rapier. It handles better than the Saloon, too!

As of 9/25/05 I sold this car to another Hillman affectionado, after two years of ownership. It has gone to a good home and the garage is less cramped!